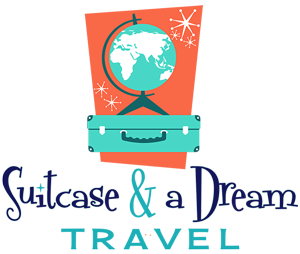 We at Suitcase and a Dream are a group of travel professionals dedicated to giving you the benefit of our years of travel planning and expertise at no additional charge to you. That's right – our services are completely free to you, our clients!
With our specialized team of agents, which stretches across the entire country, we are delighted to provide individualized, full-service planning to you, creating your very own customized vacation plans. Our Dream Team Agents are dedicated to staying up to date and informed on all aspects related to many vacation destinations. Each of our agents have College of Disney Knowledge and Universal Orlando Resort Specialists Certification, and hold annual recertification status. These yearly recertifications transfer many benefits to you, our clients. Our onsite training ensures that you receive the benefits of their firsthand experiences, enabling them to knowledgeably answer questions that you might have about a given destination.
Suitcase & a Dream Travel is a part of Disney Destinations exclusive EarMarked program, which designates our agency as an Authorized Disney Vacation Planner. Disney's EarMarked is a program reserved for agencies that meet strict qualifications, including extensive knowledge of Disney Destinations, frequent and up-to-date agent training, an established partnership, and a proven sales record.
Suitcase and a Dream Travel is a U-Preferred Sandals Agency. This designation was given to us by Universal Parks & Resorts for being a top performing agency, and for our expertise, performance, and partnership with them.
Our team is frequently in both Disney and Universal theme parks to stay abreast of all changes, new releases, food, tips & tricks, and anything else we need to know to best plan the most magical vacations for our clients.
Additionally, most members of our team are Sandals Certified Specialists. This means that our agency and agents are recognized as loyal partners and Sandals experts by travel industry professionals and consumers alike. Our status as Preferred Sandals Specialists requires us to go through extensive training, once again with the express purpose to make sure that you receive the most updated information about Sandals resorts.
Many of our agents are also certified with many of the various cruise lines and all-inclusive resort brands. Specifically, most of the Suitcase and a Dream team have their Masters of Adventure certifications with Royal Caribbean Cruise Line, which we have a special partnership with because of our love for the brand. Several of our agents are Certified Autism Travel Professionals through IBCCES, for which we are very proud.
All of these certifications and training opportunities are completed for you, our clients. We want you to have the vacation of your dreams, and that means we are dedicated to researching and learning the information that you need most. Check out the Meet our Agents section to learn more about our amazing Dream Team of agents.